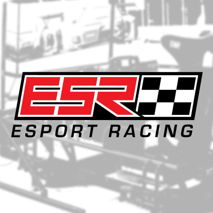 8H Charity Esport Race
Donér
Oprettet Af:

Thor Alexander Qualmann

Samler ind til:
8H Charity Esport Race
LET'S RACE FOR THE CHILDREN
We are happy to announce this charity event for
Children Cancer Foundation (Børne Cancer Fonden)
ESR hereby invites your Esport Racing Team to 8 Hours of Road America. ESR are the organizers of the official Danish Esport Racing Championship in cooperation with the Danish Motorsport Federation.
We are looking forward to have a fun and enjoyable race and hope to see your team on the track.
Game : iRacing
Date 09.06.2019
Practice : 08:00-9:50 (GMT+2)
Qualify 2 laps : 9:50-10:00 (GMT+2)
Race : 10:00 - 18:00 (GMT+2)
Track: Road America
Weather : Dynamic
Car class: GTE
Drivers pr. Team: 2-4 drivers
iRacing licens: C-licens
Grid spots: 50
Broadcast: Racespot.tv
Incident limit : 100
>> SIGN UP FORM <<

Entrance fee (minimum) 30 € / 220 DKK
Donate in the name of your team. (Click donate)
Sign up via following google form.
https://forms.gle/aJFeqjum1Aituo3a6
The sign up will be closed as soon we hit 50 teams or 2 days prior to the race.
Prizes
All prizes will be in draft between all people that have donated. Winners will be contacted after the event.
- 5 x Gift cards of 500,- to Vandel Gokart & Sim Racing
- 5 x Vandel Gokart Sport Bags
- 1 x L33T V3 Pro Gaming Chair
- 6 tickets to FDM DTC, Grand Prix Danmark
- 1 x Gift card of 1000 kr to Sportcarevent (only for donations above 500,-)
>> All donations for the 8H Charity Esport Race will go uncut to The Danish Children Cancer Foundation. Donations can not be refunded <<

Now let us do our best to support the children keeping their heads up while fighting against a tough enemy.
!! Feel free to donate, even though you are not going to race !!Open Practice Servers
(timezone GMT+2)

Servers will be set on different in game times and dynamic weather.
24.05.2019, 21:00 - 23:00
31.05.2019, 21:00 - 23:00
07.05.2019, 21:00 - 23:00
RACE IS ON !!!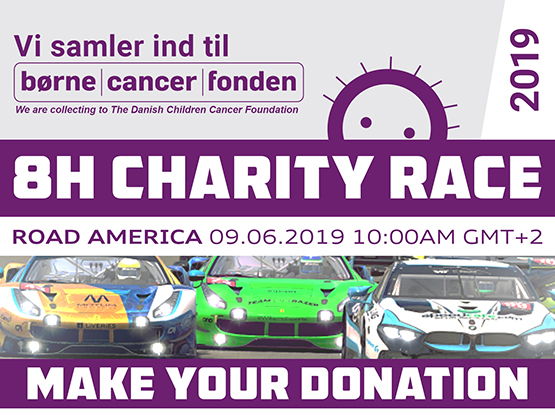 Donér
12.870 kr.


Indsamlet

17% 75.000 kr.
Helle Mikkelsen

Donerede

1.500 kr.

Thor Alexander Qualmann

Thank you so much for all the donations, keep' em coming :-)
Winners of the prizes will be announce tomorrow :-)

Thomas Jørgensen

Donerede

250 kr.

It's been amazing to race in this event! Brilliant setup and good spirit on the track - in for much more! Thanks to everyone.

Calum Wright

Donerede

110 kr.

Fantastic event and thoroughly enjoyed racing here today!

Paul Smith

Donerede

500 kr.

This is a great cause and it has been a fantastic event as well.

Hans Gunnar Hansen

Donerede

250 kr.

Pernille Radsted

Donerede

250 kr.

Erling Bøhmer

Donerede

250 kr.

From Team Vikings , Erling Bøhmer

Thor Alexander Qualmann

Practice is on and the race starts in about 1 hour ! :-)

Kjetil Larsen

Donerede

250 kr.

I am registring for Fantasma E-sports

Kjetil Larsen

Donerede

100 kr.

Jan Bronee

Donerede

2.000 kr.

Christian Faurhøj

Donerede

50 kr.

Hvis alle bare donerer det de har råd til så når vi langt. Sammen <3

Thor Alexander Qualmann

All information have been sent to the e-mail adresses given in the sign up document. Please contact thor@esport-racing.dk if you have not received it.


Thor Alexander Qualmann

Free practice server will be up tonight from 20:00 - 24:00. (GMT+2) See you on tha flipzide !!! ;-)


Richard Galuszka

Donerede

250 kr.

High Calibre Autosports. Looking forward to racing for such a good cause.

Thor Alexander Qualmann:

Thank you very much for your donation, we are happy to welcome you! :-)

Frederik Vesti Stamm

Donerede

250 kr.

Williams Esport - Laurin Heinrich/Frederik Vesti

Thor Alexander Qualmann:

Good to see you ! This is going to be a BLAST !

Mikkel Søndergaard

Donerede

230 kr.

We're ready! Let's help the children and have a hardcore race :-)!

Thor Alexander Qualmann:

Ready.. Set .. GO !!! Thanks for donations and sign up !

Tommy Østgaard

Donerede

250 kr.

FURO Media

Thor Alexander Qualmann:

A very welcome fellow viking racers ! Thank you for donation and sign , see you on track !

Rasmus Nielsen

Donerede

250 kr.

NSR eSport - Blue

Thor Alexander Qualmann:

RASMUS ! Welcome to you and the team, thanks for joining ! :-)

Thor Alexander Qualmann

Hi everyone. We are SO happy to see all the donations and teams that have been signed up. We have decided NOT to take use of the "driver fair share" rule, as some drivers will be using same simulator / sim rig when participating in the race. We hope that everybody is OKAY with this minor change. We l are looking forward to see you all on the track :-)


Vandel Gokart

Donerede

500 kr.

Oliver Spies

Donerede

220 kr.

Phoenix Racing eSport Red

Thor Alexander Qualmann:

The phoenix is flying ! We are looking forward to see you on the track ! Thanks for donation.

Thor Alexander Qualmann

Free Practice Tonight
21:00 - 23:00 (GMT+2) Feel free to join ! This server will be an open server, as we want to create some attention in the lobby. We hope to see you there ! :-)