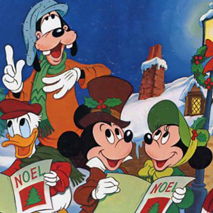 Glædelig Jul/Merry Christmas
Donate
Created By:

Simon Grønlund

Collecting for:

Glædelig Jul/Merry Christmas
Julen er hjerternes og glædens fest.
5b fra Lyngby Private Skole vil derfor gerne glæde andre ved at samle penge ind til Børne Cancer Fonden.
Vi i 5b synes, det er vigtigt at hjælpe andre børn, da de skal have en god fremtid ligesom os.

Christmas is a time for joy. - the joy of giving and receiving.
One of the 5th grade classes from Lyngby Private School, 5.B, wishes to help others by collecting money to the Danish "Children Cancer Foundation".
"We in 5.B. believes, it is important to help other children since they deserve a bright future like us."
Donate
10,025 kr.


Collected

100% 10,000 kr.
Charlotte Qvist

Tak 5.B for det super flotte initiativ - og også tak til alle jer, der har bidraget til 5.B's indsamling. Mh Charlotte/Børnecancerfonden




Simon Grønlund

Donated

500 kr.

Simon Grønlund:

Sidste portion penge fraindsamlingsdagen!:)

Simon Grønlund

Donated

102 kr.

Simon Grønlund:

Flere penge fra indsatsen på temadagen!

René Glud Jensen

Donated

100 kr.

Godt gået, 5.b

Simon Grønlund:

Tak for donationen!

Birgit Grønlund

Donated

100 kr.

Rigtig godt initiativ

Simon Grønlund:

Tak for donationen! :)

Simon Grønlund

Donated

1,525 kr.

Simon Grønlund:

Fra en utrolig god temadag! Godt gået! :)

Simon Grønlund

Donated

850 kr.

Simon Grønlund:

Fra vores indsamlingsdag! Imponerende!

Simon Grønlund

Donated

588 kr.

Simon Grønlund:

Fra vores indsamlingsdag! Imponerende!

Jens Gydov

Donated

250 kr.

Emilie passer naboens kaniner i tre uger. Emilie har også renset bilen :) Flot arbejde - for en god sag.

Simon Grønlund:

Godt gået, Emilie! Det er flot arbejde! Tak for donationen!

Kirstine la Cour Rasmussen

Donated

500 kr.

Simon Grønlund:

Tak for donationen!

Marianne Tobberup

Donated

500 kr.

Simon Grønlund:

Tak for donationen!

Emma Stefansen

Donated

350 kr.

Emmas kageindsamling

Simon Grønlund:

Tak for donationen!

Oscar Thorborg

Donated

500 kr.

Super initiativ - glædelig jul!

Simon Grønlund:

Tak for donationen!

Louise Nielsen

Donated

250 kr.

Tak for et dejligt initiativ og en dejlig klasse. Glædelig jul.

Simon Grønlund:

Tak for donationen!

Jens og Nikolaj Nielsen

Donated

110 kr.

Håber vi kan være med til at hjælpe nogle børn

Simon Grønlund:

Tak for donationen!

BQ BQ

Donated

250 kr.

Simon Grønlund:

Tak for donationen!

William Wolff

Donated

250 kr.

Glædelig jul :D

Simon Grønlund:

Tak for donationen!

Helle Valentin Haderslev

Donated

100 kr.

14154

Simon Grønlund:

Tak for donationen!

Mette Kalmberg

Donated

250 kr.

Simon Grønlund:

Tak for donationen!

Sofie Kalmberg

Donated

250 kr.

Simon Grønlund:

Tak for donationen!

Mikael Frederiksen

Donated

500 kr.

Simon Grønlund:

Tak for donationen

Kaya Conrad Frederiksen

Donated

500 kr.

Simon Grønlund:

Tak for donationen

Trine Bischoff

Donated

100 kr.

Simon Grønlund:

Tak for donationen

Mogens Fromberg

Donated

100 kr.

Simon Grønlund:

Tak for donationen